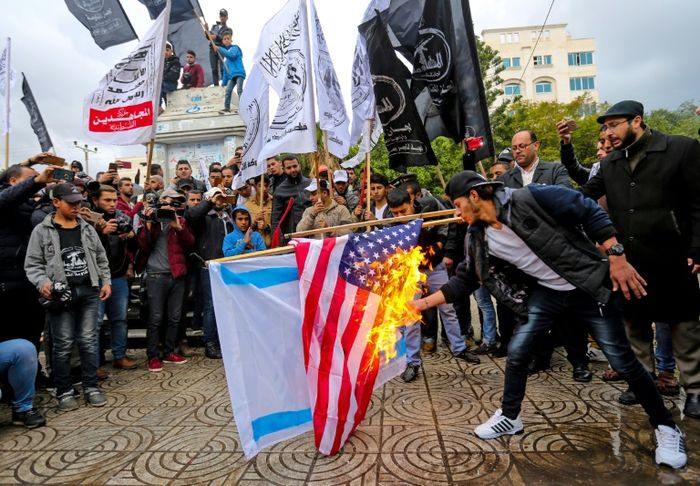 Residents in the Gaza Strip reported that there were no casualties from the strikes, according to Reuters. An IDF spokesman said two rocket launches had been identified with both falling inside the Gaza Strip.
Around two hours later the army said that another rocket, fired form the enclave's north, exploded in southern Israel.
An Islamist militant group called the Al-Tawheed Brigades took credit for firing the rockets at Israel.
An Israeli siren smartphone app warned that missiles were fired at Israel near the Gaza Strip, an incident that comes amid mounting tensions over Trump's decision to officially recognize Jerusalem as capital of Israel.
More news: Lexus teases LF-1 Limitless Concept ahead of 2018 Detroit Auto Show
More news: Nike to name New Headquarters Building After Serena Williams
More news: Brush fire north of Los Angeles forces evacuations
The launches also come five weeks after the Israeli military destroyed an attack tunnel belonging to the Palestinian Islamic Jihad terrorist group, which crossed into Israel from the Gaza Strip.
Throughout the day on Thursday, Palestinians in Gaza marched, waved Palestinian flags and burned photographs of Trump and Prime Minister Benjamin Netanyahu, as well as Israeli and American flags.
The rocket fire followed several clashes between Palestinian demonstrators and Israeli forces along the Gaza border earlier in the day, in which at least nine Gazans were injured, according to the local health ministry.
On Wednesday, Trump announced the relocation of the US embassy in Israel from Tel Aviv to Jerusalem - a move which drew numerous negative reactions from Muslim communities around the world.