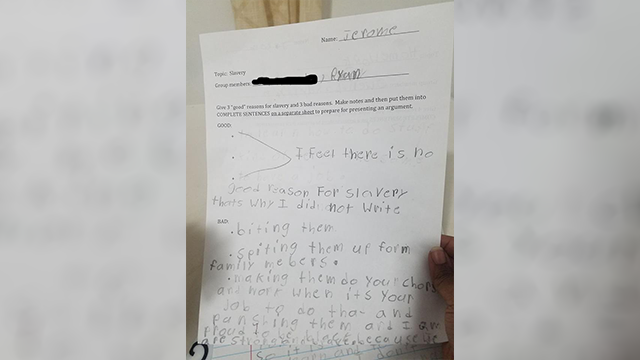 The school in question is Our Redeemer Lutheran School in Milwaukee city of Wisconsin where an English teacher asked students of fourth grade to list "three good reasons for slavery" as an assignment.
WKYC-TV reported that after receiving severe backlash for the homework, school administrator Jim Van Dellen, in a telephonic interview on January 10, clarified the school's stance on the subject and said that the assignment was an "unintentionally, poorly worded assignment" and that the school administration is "in active conversation with the parents".
The assignment was handed out to the children at Our Redeemer Lutheran School in Wauwatosa, Wisconsin. There's no word on whether or not the teacher responsible for the assignment will face discipline from the school. "That's insulting", Trameka Brown-Berry said.
The post set off a cry from Facebook respondents and a community leader that the assignment was insensitive and offensive.
More news: You fight for fantastic opportunities - Mourinho hints at Sanchez move
More news: 'Not renegotiable': Iran rejects Trump's demand for changes to nuclear deal
More news: Freeport-McMoRan Inc. (FCX)- Stocks Taking Toll on Performance Valuation
In response to the offensive prompt, Brown-Berry's son chose to write, "I feel like there is no good reason for slavery that's why I did not write". The 9-year-old also finished the assignment by saying, "I am proud to be black because we are strong and fearless". The principal agreed to all of these, she said.
On Tuesday, January 9, Brown-Berry went back to Facebook to share that she felt the situation had been adequately and responsibly resolved. In a letter to parents, he said "the objective of the assignment was not, in any way, to have students argue that slavery is acceptable".
"The moral of the story is, the only way to teach our kids to stand up for their rights and respect is to model it", she wrote. That is how you go about change. School administrator Jim Van Dellen explained the homework was an "unintentionally, poorly worded assignment" and that members of the faculty were "in active conversations with parents".
She also said the teachers must be trained in "cultural diversity/cultural competency inservice to prevent this from happening again". This did not play well with at least one parent and her son, according to a Fox 6 Now report. It's unclear what the teacher meant by the quotation marks.