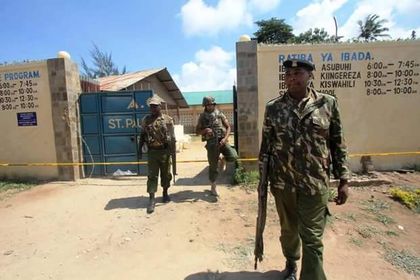 Unidentified airstrike targeted suspected Al-Shabaab militant on a minibus near Bariiri location about 45 kilometers south of the capital Mogadishu on Tuesday, officials said on Wednesday.
This attack happened barely days after the Kenya Defense Forces killed five al Shabaab militants who are said to have been among a group of attackers who burnt the Ijara Police camp.
It killed "two terrorists and (destroyed) one vehicle-borne improvised explosive device, preventing it from being used against the people in Mogadishu", AFRICOM said in a statement.
The group lost its foothold in Mogadishu in 2011 but has continued its fight and still controls vast rural areas and is widely blamed for the country's worst ever bombing, which in October left 512 dead.
The statement said U.S. forces would continue to use all authorised and appropriate measures to protect the United States, its partners and interests, and deny safe haven to terrorists.
More news: Chandigarh Stalking Case: Vikas Barala Gets Bail
More news: 'Not renegotiable': Iran rejects Trump's demand for changes to nuclear deal
More news: Chelsea Manning to run for US Senate in Maryland
On Christmas Eve, the USA military launched a strike at Baal Rahao where about 300 militants were training and killed 13 of them.
"No civilians were killed, " it added.
The U.S. military carried out more than 30 drone strikes previous year against al-Shabab and fighters linked to the Islamic State group after the Trump administration approved expanded operations in the Horn of Africa nation.
There have been over 30 strikes in Somalia since President Donald Trump took office.