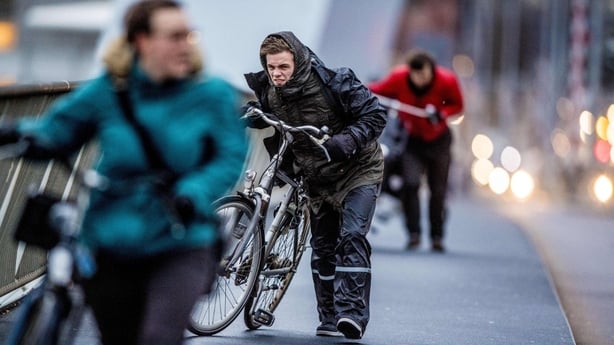 Trains were halted across the nation and in Germany.
A 59-year old man was killed by a falling tree near Emmerich, and a 68-year-old man in North Rhine-Westphalia lost control of his transporter in strong winds and died.
Flights at Schiphol airport in Amsterdam were briefly suspended.
Storm "Friederike", which swept across Germany from the west, is, according to the German Weather Service, the heaviest storm since the year 2007.
At least three people were killed and several others injured in the Netherlands due to a severe storm, as gusts of up to 140 kilometres per hour blew down trees and damaged buildings.
As the national weather service raised its warning to the highest code red level, a 62-year-old man was killed in the central Dutch town of Olst by a falling branch when he got out of his truck to remove debris blocking the road.
Deutsche Bahn also had to cancel service for a number of long-distance trains on 18 January as a result of the storm.
In the United Kingdom, the storm caused high winds on Wednesday and Thursday, and cut off power to tens of thousands of homes.
More news: 6 questions about President Donald Trump's health answered
More news: Twitch to Stream Content from Disney Digital Stars Under New Pact
More news: Mesut Ozil 'close to signing a new Arsenal contract', says Alan Smith
Flights were grounded, train service was halted and trucks were knocked over by the strong winds.
Dutch broadcaster NOS posted frightening videos of a massive tree crashing down in the wind, barely missing a woman with a stroller. Toppled power lines and trees damaged homes and snarled traffic.
Meanwhile, power outages left 100,000 people without electricity in Germany.
Flights were suspended at Schiphol for several hours on Thursday because of the high winds, which also caused some roof damage there.
Police have closed the centre of Almere, a city with about 200,000 residents lying just east of Amsterdam.
Schools were closed as a precautionary measure in many parts of Germany and people particularly in western regions were warned to stay indoors if at all possible, The Guardian reported.
An alert on the NS website said that "at most, only a few trains" would run throughout the evening.