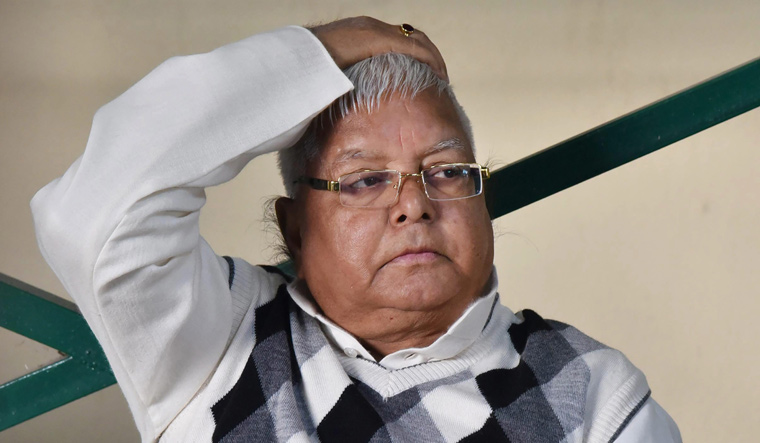 Bihar politician and RJD chief Lalu Yadav was today convicted in the fourth case linked to the fodder scam while his predecessor Jagannath Mishra has been acquitted by a Ranchi court in Jharkhand.
There were 31 accused in this case, of which 19 were convicted and 12 acquitted.
The judge delivered the verdict alphabetically but Lalu Prasad - who was the Chief Minister when the wrongdoing took place - reached the court after it was delivered.
The case comprises fraudulent withdrawals of Rs 3.76 crore from Dumka treasury, which is now in Jharkhand, between December 1995 and January 1996 when Prasad was the chief minister of Bihar. Yadav has been in Ranchi's Birsa Munda jail since December 23 after being convicted in the second fodder case relating to illegal withdrawal of Rs 89.27 lakh from the Deogarh treasury 21 years ago.
September 30, 2013: The first of Lalu's convictions in the fodder scam case came in September 2013. "We believe that in the end Lalu ji will be acquitted too", said RJD leader Raghuvansh Prasad Singh. It is believed that on March 22, Lalu Prasad's sentence can be pronounced.
More news: Australia, Southeast Asian summit ends with rebukes against trade protectionism
More news: Putin ordered to shoot down passenger plane By
More news: DFS NASCAR Podcast - Auto Club 400 3/16/18
But the former Bihar chief minister Jagannath Mishra not found guilty in the case. Most said the RJD chief had been convicted due to political vendetta. The pronouncement of the verdict was deferred till March 17 and then postponed to Monday.
Mishra and Lalu were accused of theft along with 29 others including veterinary doctors as well as IAS officials in the multi-crore case. Out of these 49 three became government witnesses out of which one has died, while the higher court quashed the charges against the than Dumka Commissioner S N Dubey in the case while 14 others died during the course of the trial.
This year in January, a CBI court sentenced the former Chief Minister to three-and-a-half years in jail and imposed a fine of Rs 10 lakh on him in the Deoghar treasury case.
In another Chaibasa case, RC 68A/96 pertaining to Rs 37.62 crore Prasad got five years prison term on January 24 this year.
Another case regarding withdrawal of Rs. 139cr from the Doranda treasury is pending.