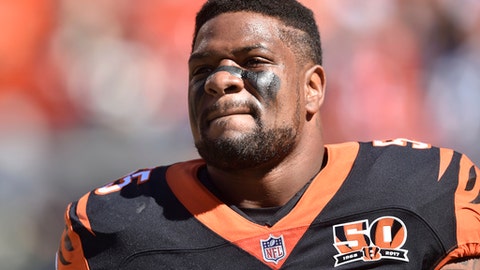 Cincinnati Bengals linebacker Vontaze Burfict has been suspended without pay for the first four games of the 2018 NFL regular season, according to an official league announcement.
Burfict was also suspended the first three games of the 2016 season for numerous violations of player safety rules, including an illegal hit on Pittsburgh Steelers wide receiver Antonio Brown during the 2015 playoffs. On Thursday, it was announced that his appeal had been denied.
Separate from those suspensions, Burfict has been fined $303,637 for 11 on-field incidents in his National Football League career, according to ESPN Stats & Information.
This will be the third consecutive season during which Burfict is suspended.
More news: Sacramento police issue new rules on muting body cameras
More news: Israeli airstrike hits Gaza; Palestinian man reported killed
More news: Support, tributes continue for the victims of Humboldt Broncos tragedy
Almost one full month ago it was reported that Burfict was facing a potential four-game suspension for violating the NFL's Performance-Enhancing Drug policy and that he had an appeal pending.
He has been a polarizing figure during his previous six seasons with the Bengals, highly productive with his play but repeatedly being disciplined for his transgressions.
The NFL then suspended Burfict the first three games of 2017 for an illegal hit he made on a Chiefs player in a preseason game.