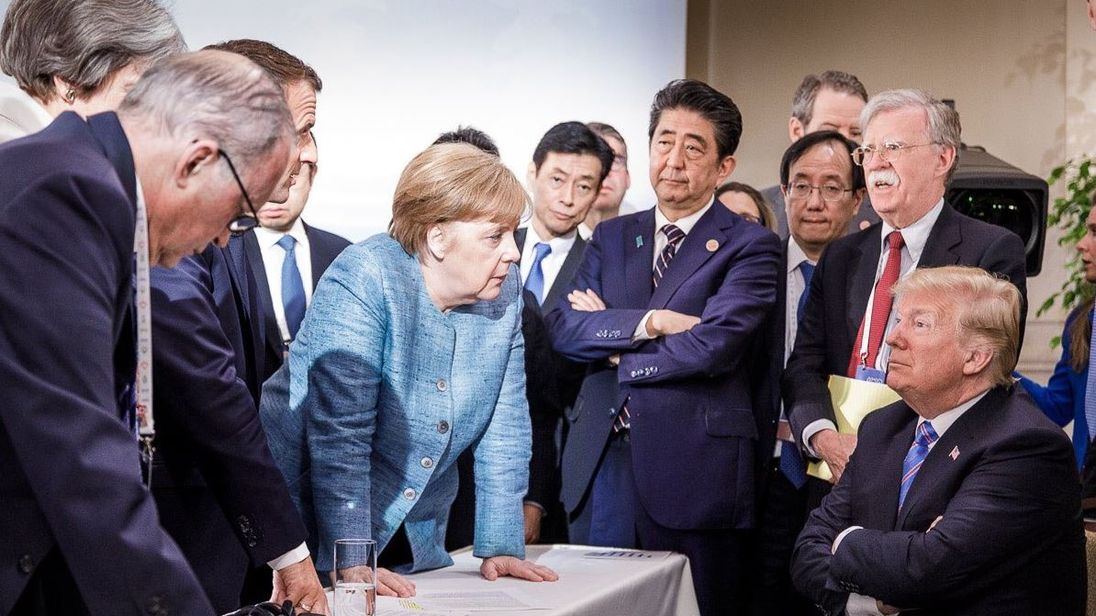 Speaking on German television Merkel also expressed regret about President Donald Trump's surprise decision to withdraw his endorsement of the recent G7 summit's final communique.
A day after the G7 summit, German Chancellor Angela Merkel hit back at President Donald Trump's tariffs.
Berlin, Germany―World Trade Organization chief Roberto Azevedo warned Monday against a damaging "escalation" of trade tensions between the United States and other major economies, following a divisive G7 summit.
Describing her impression from Trump's behavior at the summit as "disillusionment", Merkel said that "we will not allow ourselves to be deceived again and again" and that Europe will not permit the American president to do "whatever he pleases". The photo shows Merkel towering over Trump, the only person in the group who is seated, and staring him down.
The summit did not mark the end of the transatlantic partnership between Europe and the U.S., Merkel said. In the USA version, we see Mr Trump face on, apparently calm, leaning back confidently with a sceptical, nearly sarcastic air, his arms crossed in a rebuff to the other leaders, bent towards him pleadingly. "Instead, we act then too", Merkel said in an unusually combative tone. But Trudeau had simply reiterated points he'd made before: that Canada planned dollar-for-dollar retaliatory tariffs in response to Trump's new tariffs on imported steel and aluminum.
More news: Tesla Roadster will have 'SpaceX option' that adds rocket thrusters
More news: Bitcoin (BTC) Nosedives Amid South Korea Exchange Heist
More news: Wolfenstein: Youngblood is a co-op game where you play BJ's twin daughters
Merkel's March 2017 visit to the White House was marked by Trump either not hearing or ignoring her offer to shake hands in the Oval Office.
Mr Trump had already threatened to divide the G7, made up of the US, France, UK, Italy, Germany, Japan and Canada, when he suggested Russian Federation should be allowed to rejoin the group. He went on to announce that the United States would be looking to impose tariffs on vehicle imports.
Out of a hundred photos that were taken during the Group of Seven (G7) summit in Canada, this particular picture of stood out after it was surfaced on social media on Saturday.
Germany, Europe's top economy, finds itself in the sights of the USA president due to its large trade surplus and defense spending criticized as too low.
Those differences were apparently hashed out in a late-night session Friday and another on Saturday morning, which yielded the photo above, posted on German Chancellor Angela Merkel's Instagram account.