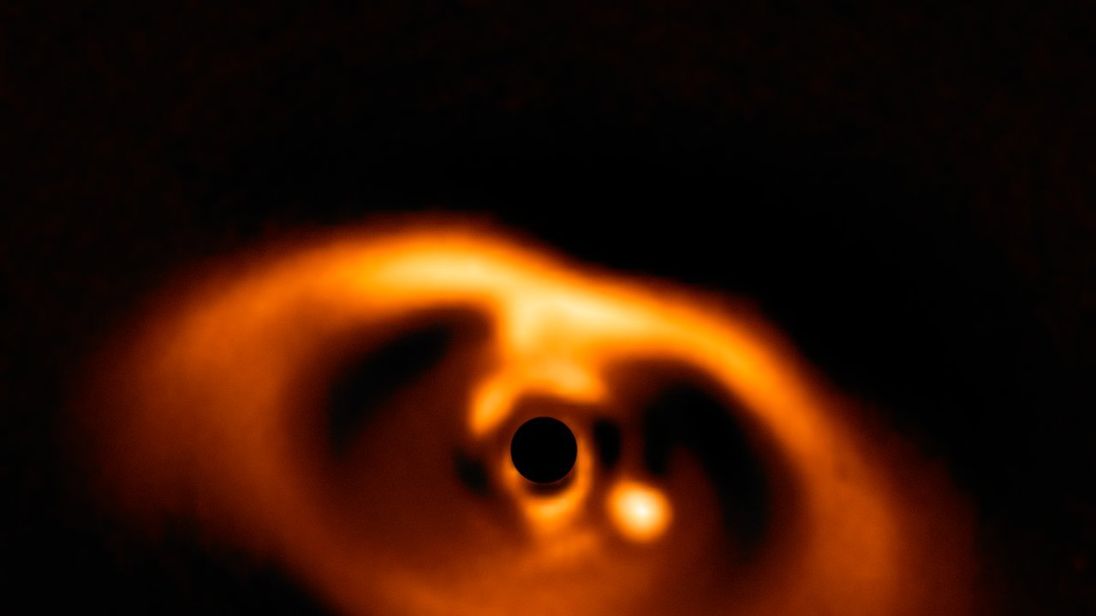 The images were captured using the SPHERE instrument installed on Unit Telescope 3 of the European Southern Observatory (ESO's) Very Large Telescope (VTL) array in Chile. The astronomers, Miriam Keppler and André Müller, were able to capture several images of the planet thanks to its position to a nearby star (PDS 70).
PDS 70 is a youngster itself, a 4.5-million-year-old T Tauri star surrounded by a circumstellar disc of gas and dust about 130 astronomical units across, or about 19 billion kilometres (12 billion miles).
Planet formation had previously been hidden from the human eye by dust, but a team at the Max Planck Institute for Astronomy grabbed a clear image of the planet breaking through the disc from which it forms.
Two global teams of astronomers announced on Monday that the planet hunting SPHERE instrument on ESOsVery Large Telescope – the world's most advanced visible light astronomical observatory - has captured the first confirmed image of a newly forming planet.
"We needed to observe a planet in a young star's disc to really understand the processes behind planet formation", he explains.
The researchers not only captured the direct image of the planet, but were even able to obtain its spectrum.
More news: Neymar Finally Takes Charge While Belgium Are Comeback Kings
More news: 92-year-old woman son and killed son
More news: 'Extreme, dangerous' heat to continue this week, meteorologists say
A team of about 120 scientists worked on the research, published in the journal Astronomy & Astrophysics. "This is very important in order to calibrate theoretical models that predict the properties of planets as they evolve". We're way, way past the adorable infant stage for our planet.
The baby planet, named PDS 70b, was discovered by a team of astronomers led by a group from the Max Planck Institute for Astronomy in Germany using the VLT's SPHERE instrument, one of the most powerful planet detectors in existence.
The observation was made as part of two survey programs, SHINE and DISK, both of which are using the SPHERE instrument to study young stars.
The image confirms newborn planets slice through these disks leaving holes and rings in their wake, researchers have said.
And the new planet was circling the star, albeit slowly. These gaps are strikingly visible in the SPHERE image. That blob is a coronagraph - a mask that researchers apply directly onto the star, lest its light blocks out everything else in the image. As a effect, the planet appears to slowly rotate, changing its location on the image with respect to the stellar halo.