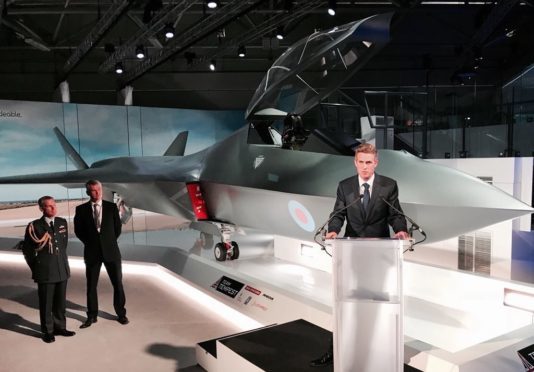 Defence Secretary Gavin Williamson revealed the Tempest concept at Farnborough International Airshow in Hampshire.
The UK is to invest 2 billion pounds ($2.7 billion, €2.3 billion) to 2025 in the stealth warplane, which will involve British companies BAE Systems and Rolls-Royce as well as Anglo-Italian Leonardo and pan-European MBDA.
Germany and France are already working on a new jet, with the programme led by France's Airbus, part of the Eurofighter consortium and Dassault Aviation SA, the maker of the Rafale.
The Tempest is being developed as part of a strategy to not only bolster Britain's defenses, but to maintain the country's aerospace design and manufacturing sector, attract worldwide partners to help in the Tempest's development, and to produce a variant of the aircraft suitable for the export market.
He said it was not clear if the United Kingdom project would eventually be merged with the Franco-German one, adding, "We are having a lot of conversations with a lot of countries".
Unveiling the project, Gavin Williamson said: "We have been a world leader in the combat air sector for a century, with an enviable array of skills and technology, and this Strategy makes clear that we are determined to make sure it stays that way".
More news: Meghan Markle Is Called Out By Half-Sister For Allegedly 'Ignoring' Her Father
More news: Trump stresses Israel's security in talks with Putin ZlotoNews
More news: Julie Walters burst into tears during Mamma Mia damehood celebration
It will face competition from a rival European project after France announced in June that it would take a leading role on a new fighter program, saying it would start as a bilateral effort with Germany that could be expanded later.
Team Tempest demonstrates our commitment in ensuring that we continue to build our capabilities, draw upon our experience and history to bring forward a compelling vision for the next generation fighter jet.
He added that the United Kingdom, now excluded from the latest fighter programme underway between France and Germany, was not against forming a partnership with other nations: "It shows our allies that we are open to working together to protect the skies in an increasingly threatening future - and this concept model is just a glimpse into what the future could look like".
Coinciding with the release of the government's Combat Air Strategy report, the Tempest is created to complement the existing Typhoon and F-35 Lightning II fighters.
A German defence ministry spokesman declined to comment on the United Kingdom programme, but said the Franco-German project was open to additional partners.
"We have a number of export campaigns in play and [.] I think the outlook for Typhoon export orders is as good now as it's been for quite some time, both in our very important Middle East customers but also within Europe", he told BBC Radio.