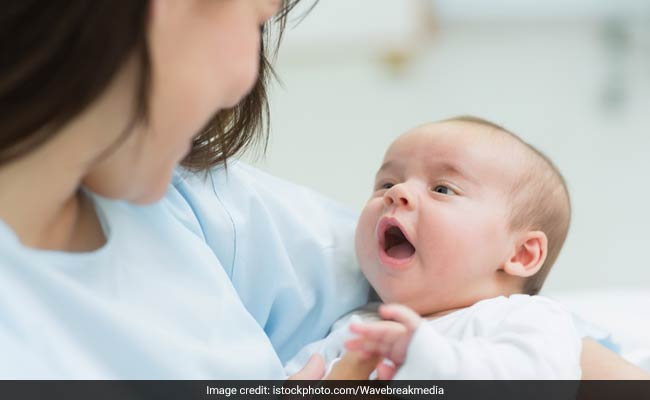 The World Health Organization recommends that parents wait until the age of six months to give their infants solid foods to ensure they get the most benefit from the nutrients found in breast milk or formula.
Of course, let's not forget the official advice, and that is to breastfeed your child for his six months of life - exclusively.
Brown urged caution, noting that no difference in waking was seen until after five months, despite one group being introduced to solids from three months, and that self-report of infant sleep by exhausted parents was unlikely to be precise. But the authors noted that the study also included a detailed validated sleep questionnaire that was completed on 15 occasions for the child from 3 months to 3 years.
Those babies given solid foods slept for 16.6 minutes longer and woke 13 per cent less often in the night than those who were kept on just breastmilk.
Although official advice is to breastfeed exclusively for the first six months of a baby's life, experts found that giving solids as well as breast milk from three months can help with an infant's slumber.
Babies who start on solids at three months sleep better than infants exclusively breastfed until six months of age, according to a new analysis of clinical trial data.
A new study from British researchers published this week in JAMA Pediatrics supports what caregivers have thought for generations - that some solids in an infant's diet may result in a little more rest for parents.
More news: Comeback kings Croatia have unfinished business at the World Cup
More news: Cardi B announces birth of daughter on Instagram
More news: Sacha Baron Cohen in Talks for New Comedy Interview Series
Infants introduced to solid foods at an earlier age slept longer through the night, while infants with later introduction to solid food were more likely to have sleep problems, researchers found.
Co author of the study Dr Michael Perkin, from St George's, University of London, said: "Given that infant sleep directly affects parental quality of life, even a small improvement can have important benefits".
But the new study suggests that advice is flawed - and suggests babies do better if solid food is given earlier, alongside breastmilk.
Parents have been told for years to delay introducing solid food, mainly to encourage mothers to continue breastfeeding for as long as possible, but also because scientists thought food introduced earlier could lead to allergies.
Responding to the study, Prof Mary Fewtrell, nutrition lead at the Royal College of Paediatrics and Child Health, pointed out that guidelines for infant feeding are now being reviewed.
First foods can include mashed or soft cooked fruit and vegetables - such as parsnip, potato, yam, sweet potato, carrot, apple or pear.
"We expect to see updated recommendations on infant feeding in the not too distant future".