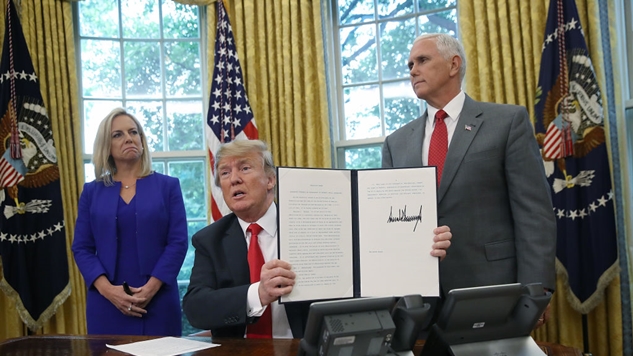 "We face unfair trade barriers", the official said, adding, "something needs to be done". Legislative Affairs Director Marc Short earlier this year said that the bill was "dead on arrival" and would not receive support from Capitol Hill.
Now, Axios has obtained a leaked draft of a bill that is created to do just that, called the "United States Fair and Reciprocal Tariff Act". American consumers pay for tariffs.
As Axios explains, it circumvents two of the fundamental principles of the WTO: that of the "Most Favored Nation" and "bound tariff rates".
Trump has branded the WTO a disaster and flouted worldwide trade norms by hitting key allies with stinging tariffs and imposing crippling fee on Chinese goods in the name of United States national security.
The recovery attempt comes following the release of a report from the Institute for Supply management showing growth in USA manufacturing activity unexpectedly accelerated in the month of June. Trump directly requested this legislation and was verbally briefed on it in May.
More news: China will counterpunch USA with $34 billion in tariffs
More news: Canada Imposes Retaliatory Tariffs on US Goods
More news: Hyundai Says FCA Buyout Rumor Is "Totally Groundless"
The bill was named the United States Fair and Reciprocal Tariff Act - immediately dubbed the FART Act. Administration officials involved in drafting the legislation tell AXIOS that the idea is "insane".
"They have to treat us fairly", Trump said Friday about the WTO.
Axios reports that under the bill the USA would elect to abandon the "Most Favored Nation" (MFN) principle, which says countries are not allowed to set different tariff rates for different countries outside of free trade agreements. The draft bill is known as the United States Fair and Reciprocal Tariff Act, which would essentially allow President Trump to unilaterally raise tariffs without Congressional approval.
A trade official says Moscow has initiated a dispute complaint against the US over the 25 per cent tariffs on steel and 10 per cent tariffs on aluminum, by circulating the request Monday among WTO members in Geneva.
"As (Treasury) Secretary (Steven) Mnuchin and the President have said, that is not accurate that the United States is leaving the WTO (sic)", White House Press Secretary Sarah Sanders told reporters at her daily news conference.