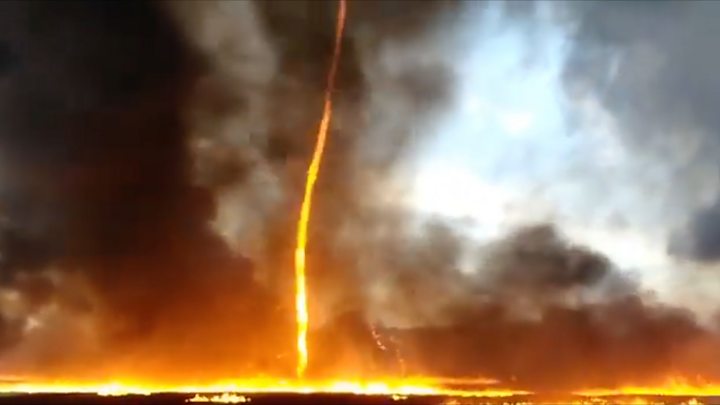 A video recorded by firefighters and posted to Twitter by Leicestershire's fire department captured the event, showing a slim streak of fire reaching into the sky amid a visible whirlwind storm that resembled a twister.
An investigation has begun into the cause of a factory blaze which resulted in a "firenado" - or fire whirl - forming.
A spokesperson for Leicestershire Fire and Rescue said: "In the early hours of Tuesday, firefighters from Ashby Station were called to a large fire at Occupation Lane, Swadlincote".
That was not the only firenado firefighters encountered while fighting the blaze, the department sharing a second video on their Facebook page of yet another fire whirl they went up against.
Firefighters were joined by colleagues from other counties as they tried to prevent the fire spreading.
More news: Premier League interest ratings: This weekend's fixtures ranked
More news: China bans 'Winnie the Pooh' film over comparisons to President Xi Jinping
More news: Former FGCU coach charged for deadly assault in NYC
East Midlands Ambulance Service attended but no injuries were reported.
"While the site of the fire is not directly next to any residential properties, we are still advising locals to keep their windows and doors closed until the fire is completely out and the smoke has subsided".
Factory owners David Meredith, 74, and his son Russell, 36, said three members of staff were in the factory at the time of the blaze but they escape unharmed.
'Had it been near Christmas when the trays are returned we could have had up to 1.5 million there and it probably would have been something you could see from space'.