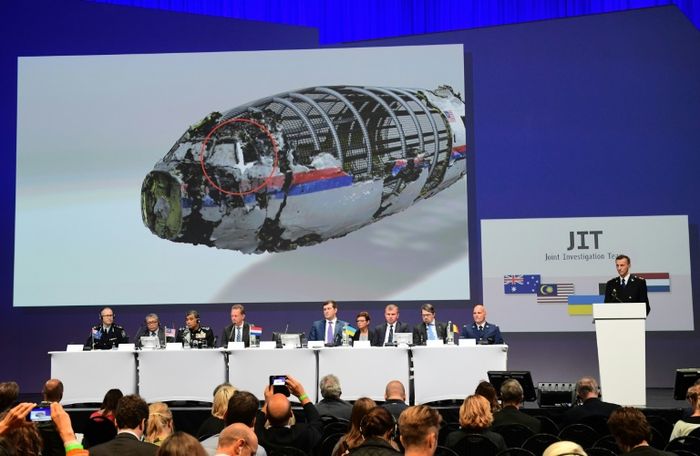 In May, prosecutors investigating the downing of MH17 over eastern Ukraine in 2014 said they had identified the missile used to shoot down the plane as coming from Russia's armed forces.
All 298 people on board MH17 were killed when the Boeing 777 flying from Amsterdam to Kuala Lumpur was shot down by a Soviet-made missile over rebel-held eastern Ukraine in July 2014.
The tragedy caused an global outcry and deepened tensions between Moscow and the West following Russia's seizure of Crimea and support for the militants in their fight against Kyiv's forces after pro-European protests pushed Moscow-friendly Ukrainian President Viktor Yanukovych from power.
Several videos showing the battery of missiles Bouk in circulation in the territory controlled by separatists in the days leading up to the crash have been disseminated, collected, in particular by the website Bellingcat, which specialises in the collection and analysis of information available on social networks.
Moscow believes the investigation by the Netherlands-led joint team is biased, having failed to obtain all necessary evidence from Ukraine and relying on what it claims are "questionable sources" while ignoring Russian-provided evidence. They cited alleged evidence whose authenticity and accuracy could not immediately be independently assessed.
The serial numbers on the missile showed that they were made in 1986 and shipped to Ukraine.
More news: Christine Blasey Ford statement on Brett Kavanaugh sexual assault hearing
More news: Multiple people shot in Harford County, MD
More news: Macron Says Pro-Brexit Politicians 'Liars', Rejects May 'Chequers' Plan
Nikolai Parshin, chief of the Russian Defense Ministry's Main Missile and Artillery Directorate, presented at a press conference documents related to the missile, parts of which were shown in May by the Dutch-led five-nation joint investigation team (JIT).
In Ukraine, National Security and Defense Council Secretary Oleksandr Turchynov said Russia's "statement alleging that the missile that downed MH17 had a Ukrainian footprint was yet another awkward fake [issued] by the Kremlin in order to hide its crime, which has been proven by both the official investigation and by independent expert groups". In 2016, Communist Party MPs addressed Foreign Minister Sergey Lavrov with such a request, but Lavrov said that the cancelation of the treaty on Moscow's side was unwanted and unlikely, as such a step would likely add more problems to relations between the two countries, rather than solve existing ones.
"And we've never published it".
"We call on Russian Federation to accept its responsibility and cooperate fully with the process to establish the truth and achieve justice for the victims of flight MH17 and their next of kin", Dutch Foreign Minister, Stef Blok, said at the time.
According to the MINDEF, among the wreckage of the plane, shot down on July 17, 2014, on a territory in conflict between the Donbass rebels and the Ukrainian army, was found the unique series (number 8720) of a missile produced in 1986.