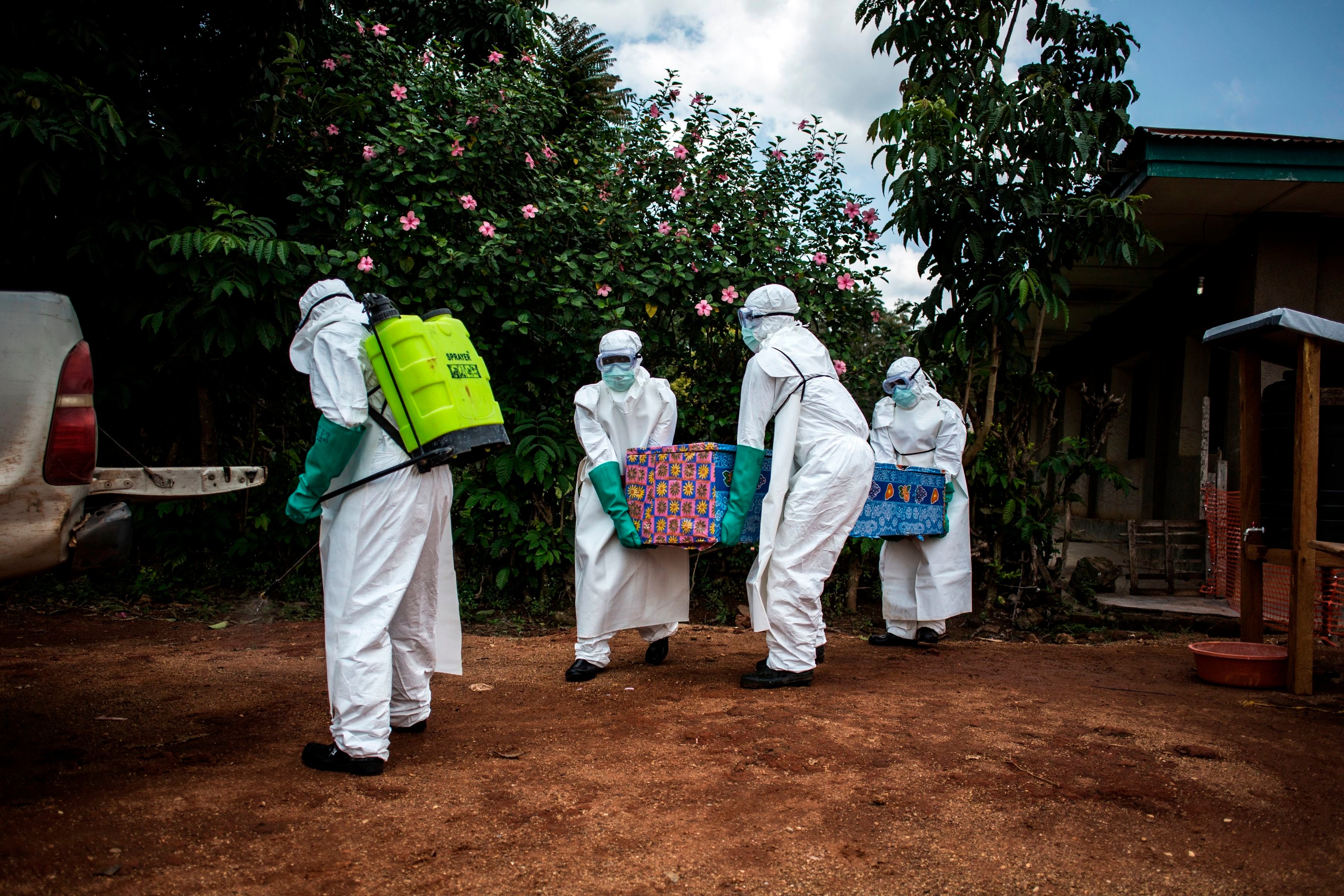 The WHO's emergency response chief, Peter Salama, previously told HuffPost that this has been the "most hard context" for dealing with an Ebola outbreak ― ever.
His ministry, WHO and aid groups have expressed alarm as the rate of new cases has more than doubled this month amid the threat of attack by multiple rebel groups and sometimes hostile community resistance to health workers in a part of Congo facing its first Ebola outbreak.
Steffen said the committee had based its conclusions on three criteria - whether the outbreak was extraordinary, whether there was a risk of worldwide spread, and whether there was a requirement for an global response.
However, it does not yet constitute a public health emergency of worldwide concern (PHEIC), the emergency committee said.
A Congolese health worker checks the temperature of a woman before the launch of vaccination campaign against the deadly Ebola virus near Mangina village, near the town of Beni, in North Kivu province of the Democratic Republic of Congo, August 8, 2018.
The disease is flaring up in another province, and the response is being concentrated in this area, he said, "so we do have some optimism that this outbreak, just like the one in May, will be brought under control within reasonable time".
More news: Bellinger leads off vs. Brewers in Game 5
More news: The Fan Grades: Jaguars Vs Cowboys | 105.3 The Fan
More news: Portland Trail Blazers spoil LeBron James' debut for the Los Angeles Lakers
Public health emergencies were declared for the H1 N1 swine flu outbreak in 2009, the polio that re-emerged with the 2014 Ebola outbreak in West Africa and the Zika fever outbreak in 2016. Since 2007, when the barometer was established, the World Health Organization has only declared a PHEIC four times: for swine flu in 2009, polio and Ebola in 2014, and Zika in 2016.
The four drugs used during the outbreak are ZMapp, developed by San Diego-based Mapp Biopharmaceutical Inc.; remdesivir, developed by Gilead Sciences Inc.in collaboration with the U.S. government; REGN3470-3471-3479, developed by Regeneron Pharmaceuticals; and favipiravir, developed by Toyama Chemical of Japan.
WHO's director-general, Tedros Adhanom Ghebreyesus, said they were "trying within this year" to stop Ebola.
In a press briefing, WHO Director-General Tedros Adhanom Ghebreyesus, PhD, MSc, went through the criteria the Emergency Committee considers when declaring a public health emergency of global concern.
The agency also declared a public health emergency of worldwide concern in February 2016 over the Zika virus.