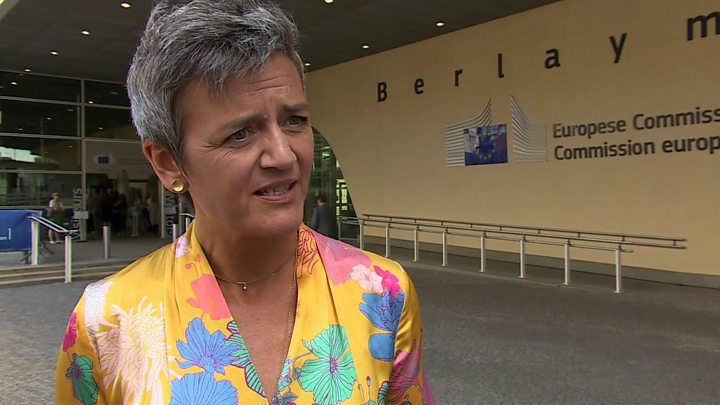 Alphabet unit Google (GOOGL.O) on Tuesday challenged a record 4.34-billion euro ($5 billion) fine imposed by European Union antitrust regulators three months ago for using its popular Android mobile operating system to thwart rivals.
This means Google is now appealing two massive antitrust fines in the EU-the other fine, totalling $2.7 billion, was handed down in mid-2017 as punishment for Google's abuse of its search-engine market dominance.
It is not known how the European Union will respond to Google's appeal, nor how long it will take for the case to be heard.
The European Commission found that Google illegally forced phone manufacturers who preinstall Google's Android apps to stop selling any phones using non-Google versions of Android-supposedly an open-source operating system that's open to adaptation.
More news: See more of Meltan on the Japanese Pokémon: Let's Go! website
More news: Walsh says he is not the person he's being portrayed as
More news: Taylor Swift Urges Viewers to Vote During American Music Awards Speech
In a statement to Reuters, Google said it had "filed our appeal of the EC's Android decision at the General Court of the European Union". The bloc's competition commissioner, Margrethe Vestager, said at the time of the ruling that "companies must compete on their merits".
"In this way, Google has used Android as a vehicle to cement the dominance of its search engine".
In his response, Pichai argued that users can easily install alternatives to Google's pre-loaded apps, and that not all of its Android partners come with pre-installed Google apps, citing Amazon's Fire devices. Google's CEO Sundar Pichai immediately responded that Android has "created more choice for everyone, not less", and promised to appeal.
A story on Sky News suggests that Google has simply asked ad agencies to set up fake companies to sell goods, and advertise in the spaces previously occupied exclusively by Google, thus giving an impression of competition.