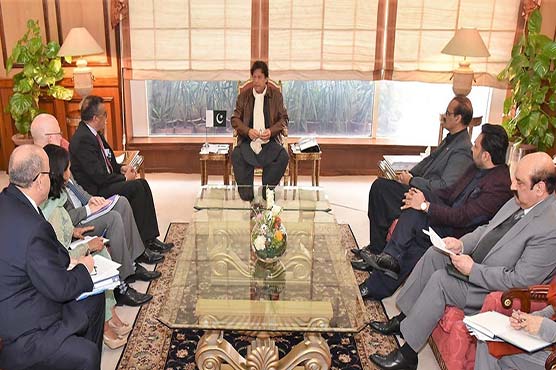 Dr Ghebreyesus was accompanied on his second official visit to Pakistan by WHO Regional Director for the Eastern Mediterranean Dr Ahmed Al-Mandhari.
Tedros Adhanom Ghebreye calls on Prime Minister Imran Khan at his office.
The Bill and Melinda Gates Foundation has expressed commitment to continue efforts for polio eradication and improvement of the health sector. He expressed his desire in the letter that was delivered by Dr Christopher Elias, President of the Bill and Melinda Gates Foundation's Global Development Division to PM Imran Khan.
Dr Tedros briefed the prime minister about a polio donors' conference in Islamabad.
He said the polio vaccination activities were well organised in close collaboration with provinces and were directly overseen by the national, provincial and divisional task forces.
Addressing a press conference at the World Health Organization head office on his last day in the country, Dr Ghebreyesus said: "Pakistan also needs to stop transmission of virus of crippling disease from Afghanistan". He also informed the prime minister about WHO's ongoing programmes in Pakistan.
More news: Acer's Latest Gaming Laptop Has a Really Weird Hinge
More news: Lindsay Lohan wants to relaunch music career by recording song with sister
More news: HBO announces cast for Game Of Thrones prequel
"The government is determined to implement a transformative social and economic agenda for a "New Pakistan", the prime minister said.
The letter has sought approval from PM Khan for this goal.
He reiterated his commitment to move forward sustainable development agenda. "Every child's first 1000 days are very important and policies should focus on them", he said.
Khan said Pakistan continued to take polio eradication as a national public health emergency.
Mr Elias in his remarks expressed satisfaction over Pakistan's efforts to eliminate polio virus and vowed to continue extending cooperation to the country in this regard.
The foreign minister reiterated that the government remains committed to ensuring provision of quality health facilities to all people at all levels.