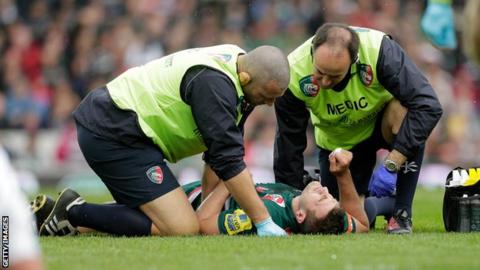 England players are five times more likely to be injured training for their country than their club, according to new research which will fuel criticism of Eddie Jones's tough methods ahead of the nation's assault on the World Cup this year. Accumulated statistics from five seasons show that it takes, on average, 39 days to recover from an injury suffered on an artificial pitch as against 30 on grass.
"We believe that understanding the unique interaction between a player's boot and an AGP will enable us to provide evidence-based guidance to players regarding the most appropriate boots to wear on AGPs and mitigate injury risk".
The report, which has been published annually since 2002, suggests that more needs to be done to reduce instances of concussion.
"We obviously discussed the situation at the PGB a few months ago and what we did as a result of that was look at the transition of players from their club environments into the worldwide environment", said RFU acting chief executive Nigel Melville. This is the second consecutive season the figure has risen above the expected upper limit of season-to-season variation.
The report said it was too early to draw conclusions from the lowering of the tackle height experiment being trialled in the Championship Cup in a bid to reduce the number of concussions, but there was still a concern that high tackles were not being policed firmly enough by officials.
"You are three times more likely to see a card for a deliberate knock-on than you are for a high tackle, currently, around the world", he said.
A spokesman for World Rugby said the governing body particularly welcomed the reduction in concussions, saying in a statement: "We will continue to collaborate with all unions and worldwide players on evidence-based solutions to mitigate injury risk as demonstrated via the wide-ranging programmes being implemented in 2019". Mitigating injury risk in a contact sport is a complex area and requires everyone involved in rugby globally to work together if we are to truly address this.
More news: Jimmy Kimmel vows to employ federal workers during government shutdown
More news: Lenovo's new Smart Clock brings Google Assistant to your nightstand
More news: Theresa May suffers major Commons defeat as MPs begin Brexit debate
RFU medical services director Simon Kemp, who has been at the forefront of the battle to recognise and minimise concussion risk, said varying interpretations of a high tackle were not helping. "Consequently, the burden of injuries on artificial turf pitches is higher than those on natural grass".
The mean severity of medically diagnosed match concussions in 2017-18 was 19 days.
The mean length of absence was 579 days per 1000 hours, compared to the overall mean of 96 days per 1000 hours.
Compliance with the mandatory return to play protocols for concussion was again excellent, with no players returning to play in less than six days.
52% of all match injuries are associated with the tackle, with 28% of all injuries associated with tackling and 24% associated with being tackled.
2017-18 is the first season that the incidence of all injuries was greater for the tackler than the ball carrier.
Concussion accounted for 18% of all injuries to the ball carrier and 37% of all injuries to the tackler, highlighting the tackle as the key game event to consider when developing concussion and all injury reduction strategies.