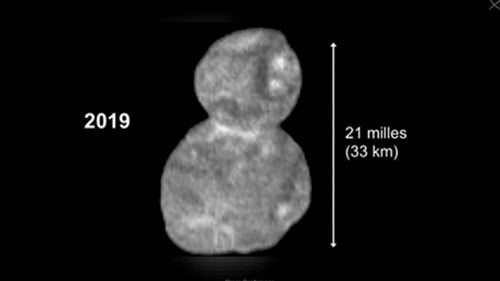 A NASA spacecraft traveling four billion miles from Earth has sent back its first close-up pictures of the most distant celestial object ever explored, and it looks like a reddish snowman.
Scientists are keen to study Ultima Thule as it lives in a region that has been relatively untouched since the formation of the solar system, which in turn helps them better understand planetary formation.
But don't take it from me, take it from New Horizons' Principal Investigator, Alan Stern, who actually knows what he is talking about.
"I'm here to tell you that last night, overnight, the United States spacecraft New Horizons conducted the farthest exploration in the history of humankind, and did so spectacularly".
Images captured on the approach indicated that the space object, located in the Kuiper belt, may be formed of two separate bodies - and pictures from a closer flyby have confirmed this.
The images released so far are "just the tip of the iceberg", he said, adding only 1% of data stored on the spacecraft has now been received by scientists. Ultima Thule is a temporary nickname until a formal name is selected, likely this year.
More news: Netflix urges people to stop hurting themselves with 'Bird Box' challenge
More news: Mesut Ozil's agent insists midfielder is 100% committed to Arsenal
More news: 6 passengers confirmed sick on Frontier flight from Cleveland to Tampa
At 10:28 am EST today, New Horizons made its pre-programmed "phone home", letting the mission team back on Earth know that the craft completed the flyby unharmed. After it coasted through, NASA selected Ultima Thule as the next observational target and set a course. From left to right: an enhanced color image, a higher-resolution black and white image, and an overlay that combines both into a more detailed view.
Ultima Thule, as the small, icy object has been dubbed, is an elongated body about 31 kilometres long, consisting of two fused-together spheres.
New Horizons was launched in 2006 on a mission to fly by Pluto. Initial images suggested it resembled a bowling pin.
While much higher-resolution images will provide a better sense of the topography and geography of 2014 MU69, what is now known is that the bottom, larger lobe ("Ultima") contains changes in elevation greater than one kilometer and that the upper, smaller lobe ("Thule") may contain a plateau feature. The centre image taken by the Long-Range Reconnaissance Imager (LORRI) has a higher spatial resolution than MVIC by approximately a factor of five.
"It's just going to get better and better", Stern said.