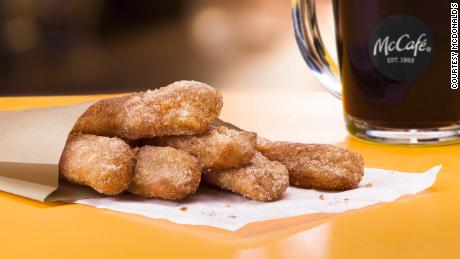 When the new limited time treats debut on February 20, they'll be available exclusively during breakfast hours by the half-dozen and by the dozen.
The donut sticks will be made fresh throughout the morning and sprinkled with cinnamon sugar.
The Donut Sticks are not microwaved, but flash-fried.
At the time, McDonald's would neither confirm nor deny the reports, but told Fox News to expect "more delicious and craveable news" in the near future.
The item is being paired with a small coffee as a combo.
More news: 101 confirmed cases of measles in 10 states, including Illinois — CDC
More news: Nicki Minaj drops BET concert after network posts mocking tweet
More news: Tiger Found in Abandoned Home in Houston, Texas, by Pot Smoker
The much-rumored addition to the breakfast menu follows two periods of testing, first in some IL restaurants in early 2018 and then again in October.
McDonald's CEO Steve Easterbrook spoke to Wall Street analysts earlier this year, and while optimistic about sales at breakfast, he added that the chain was losing traffic 'at a greater level than we want at breakfast'.
"It was critical that we perfected them before we brought them to our customers nationwide", VanGosen wrote in her statement.
"We looked at several donut shapes, tested a variety of doughs and even worked to get the amount of cinnamon sugar just right for the recipe".