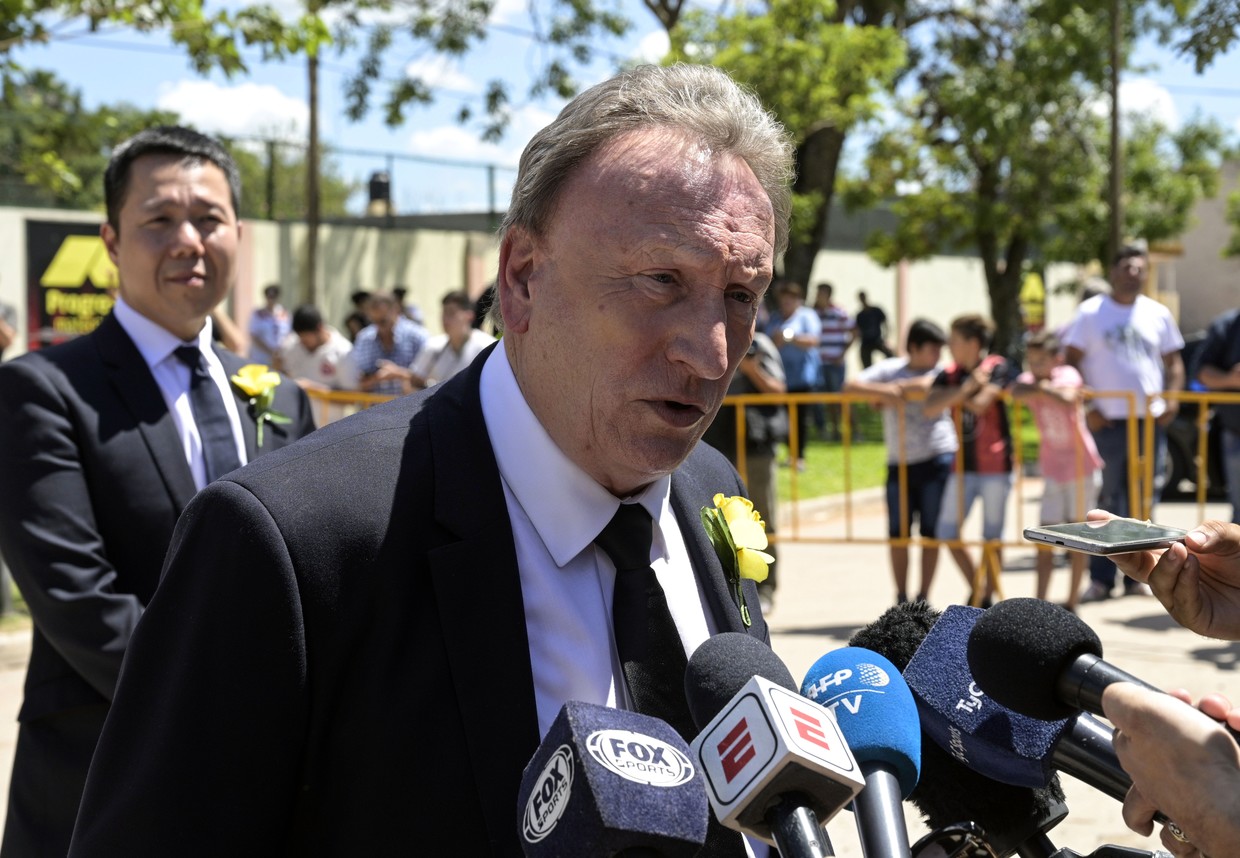 The death in a plane crash of Cardiff City striker Emiliano Sala was a cruel blow to family, friends and supporters in his home village in Argentina, and on Saturday they came, grieving, from miles around to pay their respects.
Sala's body was pulled from the wreckage near Alderney on February 7 but the British pilot, David Ibbotson, 59, from Lincolnshire, has not been found.
The gymnasium of the Atletico y Social San Martin de Progreso club hosted boys' teams where Sala played as a child.
Bluebirds manager Neil Warnock and CEO Ken Choo were among the funeral attendees.
Cardiff "may sue Nantes" following the death of club record-signing Emiliano Sala.
Sala's farewell began began with a public wake at 7am, in the gymnasium of San Martin de Progreso.
"It is something that I still can not understand or accept because it hurts so much", said Progreso resident Lucia Torres, who was in tears. Family members and friends gathered at the crematorium in his hometown of Progreso to pay their final respects to the deceased Argentine footballer striker, who died in a plane crash.
More news: McCabe: Trump wanted Russian Federation probe in letter firing Comey
More news: Brothers linked to alleged Jussie Smollett attack once filed for bankruptcy
More news: Spain handed tough draw in new Davis Cup finals
Outside, fans draped a banner saying, "Emi, nunca caminaras solo" or "Emi, You'll Never Walk Alone".
Sala had signed for the English Premier League in a club record 15 million pound (19 million USA dollars) deal from the French Ligue 1 side just a few days before the tragedy truncated his life.
Nantes footballer Nicolas Pallois carried the coffin alongside Sala's relatives, including his brother Dario and father Horacio. "The town has been in darkness since January 21".
Sala's body was recovered in a privately funded search, which was launched after the initial search was called off three days after the men and their plane went missing.
According to The Telegraph, Cardiff have frozen all payments to the French club until it is established how he died and whether anyone should be held responsible.
Speaking on Good Morning Britain, she said: "If you've got hope then you shouldn't give up".
Warnock, meanwhile, said: "You know things like this don't happen very often, so you can't understand the emotions of the family".