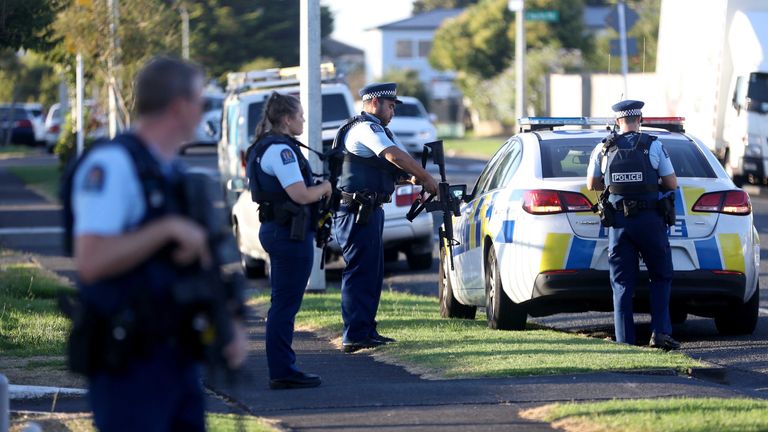 Bangladesh's cricket team escaped unscathed after a shooting at a mosque in central Christchurch, an official told AFP on Friday.
"We'd initially been looking at the players and the support staff returning in two batches, but we've managed seats for all, obviously not in the Business Class".
"We are shocked and appalled, as I am sure all New Zealanders are", NZC CEO David White said.
New Zealand prime minister Jacinda Ardern condemned the incident and said, "This is one of New Zealand's darkest days". Liton Das and Nayeem Hasan were also back in the hotel and have been contacted, and told to stay back at the hotel.
"Inshallah (God willing) everyone who's been killed today... you guys are all in paradise", he said, wiping away tears as he spoke.
Bangladesh Cricket team had to play the Final Test with New Zealand team in Christchurch on Saturday.
Members of the Bangladesh cricket team check into Christchurch Airport on March 16, 2019 following the deadly massacre on two mosques in the city.
Ms Jamieson said shaken survivors had told her how the shooting unfolded.
"We will set up a minimum security standard for future".
Ahmad Al-Mahmoud, 37, described the shooter as white-skinned, blond, quite short and wearing a helmet and a bulletproof vest.
Isam said the team had been on a bus that had gone to the mosque around the time of the attack.
More news: Cokanasiga out of England squad to face Scotland
More news: Love Island's Michael Thalassitis has died, aged 26
More news: Sterling headed for best week since January after Brexit votes
Bangladesh's Tamim Iqbal Khan greets teammate Shadman Islam.
"Frightening experience and please keep us in your prayers #christchurchMosqueAttack". "We (were) extremely lucky. never want to see this things happen again. pray for us", said Bangladeshi player Mushfiqur Rahim.
"Then we all chose to leave the bus".
"They have chosen to make New Zealand their home and it is their home. they are us". Stay safe and strong, New Zealand.
Australia's cricket team cancelled a tour in Bangladesh in 2015, citing a lack of security, while the Australian Under-19 cricket team skipped ICC Under-19 World Cup in Bangladesh in 2016 on the same ground.
Pakistan has been unable to host matches at home since 2009, when gunmen attacked the bus carrying the Sri Lanka team to a match in Lahore.
Pakistan still host almost all of their worldwide matches in the United Arab Emirates due to ongoing security concerns. "It is not only, say, Bangladesh or India or Pakistan at the high risk", he said. He also added they had asked them no to go out of the hotel.
David Richardson, the chief executive of the International Cricket Council, said in a statement: "Our thoughts and honest condolences go out to the families and friends of those affected by this horrendous incident in Christchurch".
"Just deeply, deeply saddened that this would happen in New Zealand".
International Cricket Council chief executive David Richardson said the sport's governing body 'fully supports the decision to cancel the test match'.