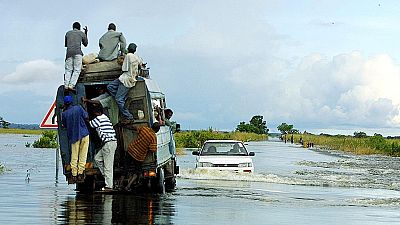 At least 115 people were killed in Mozambique, Malawi and South Africa after heavy rains affected 843 000 people across southeast Africa, officials and the United Nations said, prompting calls for emergency aid.
Tropical Cyclone Idai is shown approaching landfall in Mozambique late Thursday. The storm packs sustained winds of 115 miles per hour and threatens a month's worth of rainfall for an already waterlogged region - the makings of a looming humanitarian catastrophe.
At least 126 people have been killed in Mozambique, Malawi and South Africa as heavy rains hit southeastern Africa over the past week, affecting more than one million people, officials said.
There are 111 people with injuries, 18 hospitals destroyed, 938 classrooms destroyed and 9,763 students affected. Almost 85,000 hectares of crops have been flooded, affecting more than 57,800 smallholder farmers.
Some 62 975 people were affected by the floods in the provinces of Niassa, Tete and Zambezia.
More news: Osaka and Halep crash out of Indian Wells
More news: Gunman opens fire at Christchurch mosque
More news: Tesla Model Y: 'Coupe' crossover teased one last time
Authorities have ordered the compulsory evacuation of people living in flood-prone areas.
Flooding in Malawi and Mozambique had affected almost 843,000 people and caused at least 60 deaths as of 11 March, according to preliminary reports from the respective Governments.
Mozambique is prone to extreme weather events and as the storm approached, the coastal city of Beira was hit by winds of more than 170 kph, the National Meteorological Institute said, with Radio Mocambique reporting several homes had been destroyed and roads cut off. Floods in 2000 claimed at least 800 lives while more than 100 were killed in 2015.
The category 4 cyclone is due to make landfall on Thursday afternoon.
Now considered the deadliest weather disaster of 2019, Idai is expected to bring highly destructive winds, heavy rains in excess of two feet and a 20-foot storm surge. "Idai, the tropical cyclone is now positioned in central Mozambique channels and is slowly progressing towards the Mozambique coast".