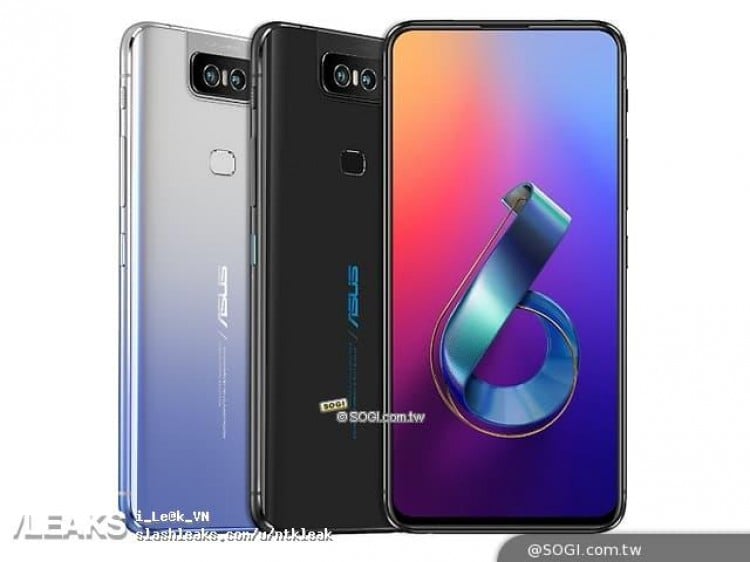 With the rotational camera, it's the camera that moves instead of you. The display is a 6.4-inch LCD panel with FHD+ resolution of 1080 x 2340 pixels and an aspect ratio of 19.5:9. You can also use the flip camera for face unlock, but note that it's not as safe as 3D cameras. With ASUS bringing in a dual-flip camera, a near-stock version of Android and a massive 5,000mAh capacity battery.
The device is most likely to feature a premium build quality with glass-metal construction, and the smartphone will also offer an in-display fingerprint sensor, which is a slight bummer, consider, nearly all flagship smartphones have started to offer an in-display fingerprint sensor. Otherwise, the bezels are pretty slim and Gorilla Glass 6 should provide ample protection from scratches. Asus even bundled a pair of ZenEar headphones (also Hi-Res certified) that you can plug into the 3.5mm jack. The Asus ZenFone 6 wants to fix that, but Asus hasn't chosen a timid design for this new top-of-the-line mobile - the ZenFone 6 has a motorised flip camera, letting the main sensor take both "standard" and selfie photos, and video. The smartphone is powered by a Qualcomm Snapdragon 855 SoC along with up to 8GB RAM and up to 256GB internal storage. Inside you will find an octa-core 7nm Qualcomm Snapdragon 855 processor. There is a dual camera setup as well. Asus has managed to squeeze a 5,000mAh battery into the new ZenFone 6 - said to be OK "for up to two days non-stop use", or 21hrs of Wi-Fi web browsing, and it can charge up again quickly via Quick Charge 4.0 support.
It also includes USB Type C, NFC, Wi-Fi 802.11 AC (Wi-Fi 5), Bluetooth version 5.0 and Global Positioning System.
This is the part that's got everyone talking - the "flipping" camera that's both rear-facing, front-facing and everything in between!
More news: Sony And Microsoft Partner Up To Develop Cloud Gaming And AI Solutions
More news: Samsung has reportedly sorted the Galaxy Fold's screen problems
More news: ICC releases official Cricket World Cup 2019 song Stand By
Resistant to dust In an attempt to make screens notchless, most smartphone manufacturers have gone the way of pop-up cameras, leading to questions on durability, and resistance to natural elements. And if it wasn't already clear, the flip camera can be used to take selfies as well. It is quite impressive to see Asus managing to put so much battery power in a compact form factor. The fingerprint sensor is located on the back of the phone and Asus claims that it has an actuation time of 0.3 seconds. Oh, and the camera immediately retracts when the phone detects that it's falling. The phone also shops with Android Pie layered beneath ASUS' ZenUI 6.
The whole flippable module is wrapped in what ASUS calls "liquid metal", mainly for its improved lightness and toughness compared to, say, stainless steel. These include double-tap-to-wake, smart volume, a dark mode and general improvements to the speed of the UI and UI animations. It is, however, compatible with the Android Q Beta program and, as an added bonus, an update to Android Q is also being promised.
Pressing the key triggers Google Assistant while holding it down lets you talk to Assistant as you would into a walkie-talkie radio.