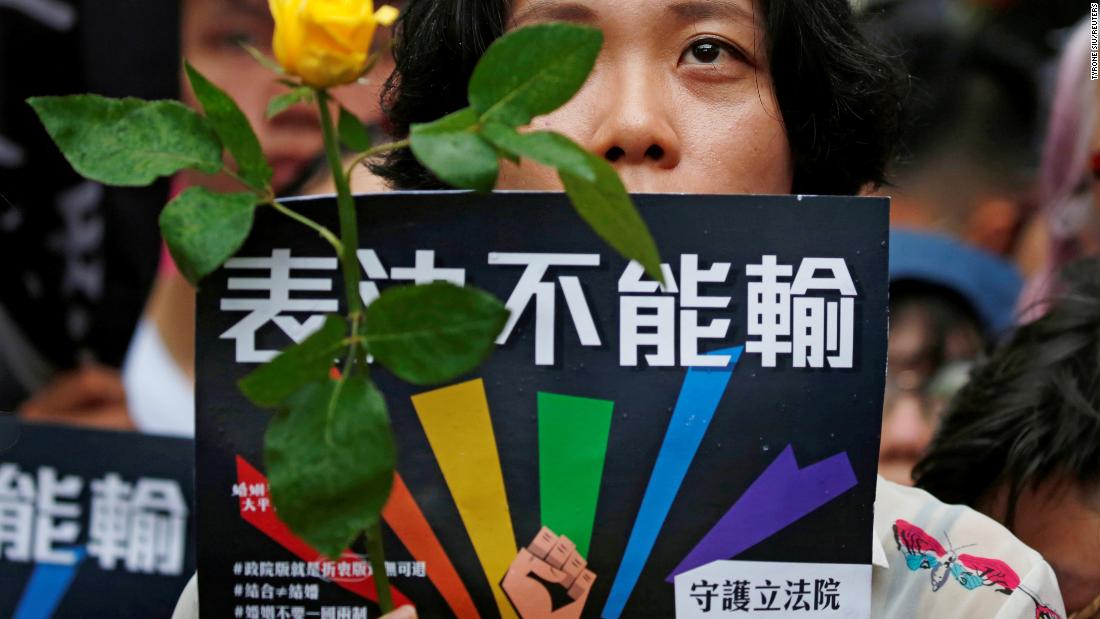 Taiwan's parliament legalised same-sex marriage on Friday in a landmark first for Asia as the government survived a last-minute attempt by conservatives to pass watered-down legislation.
The vote went according to a motion tendered yesterday by the Democratic Progressive Party (DPP) caucus, which has the legislative majority, to amend the Executive Yuan's version of the bill proposed in February.
Thousands of LGBT activists and gay rights supporters who braved heavy rain outside the national parliament during the vote, waved rainbow flags and cheered as the decision was announced.
"Taiwan is moving in line with the world's trend as it echoes the universal call for rights equality", Jennifer Lu, chief coordinator of gay rights group Marriage Equality Coalition Taiwan, told the South Morning China Post. She has spoken for same-sex marriage several times since she was elected in January 2016.
"For me the outcome today is not 100 percent ideal, but it's still pretty good for the gay community as it provides legal definition", added Elias Tseng, a gay pastor who was among the crowds outside parliament.
Taipei's annual gay pride event is the largest in the region.
The bill comes after Taiwan's Constitutional Court ruled in 2017 that laws banning same-sex marriage violated citizens' personal rights.
Australia passed laws allowing same-sex marriage in 2017, but such unions are not recognised by Hong Kong and neighboring China, which regards Taiwan as a wayward province to be returned to the fold by force, if necessary.
Two women take a selfie as they celebrate the Taiwanese parliament's vote to legalize same-sex marriage.
More news: Samsung has reportedly sorted the Galaxy Fold's screen problems
More news: Man City referred to UEFA financial body in fair play probe
More news: Mayor de Blasio announces 2020 presidential run
They told the government they had to make it a law within two years.
What other countries have same-sex marriage? "We took a big step toward true equality, and made Taiwan a better country".
Legislators voted between three separate bills to recognise same-sex unions on Friday, but ultimately pushed ahead with the DPP's law defining same-sex unions as marriages.
Tsai had previously spoken in favor of gay marriage but was later accused of dragging her feet after the court judgement, fearful of a voter backlash.
"How can we ignore the result of the referendums, which demonstrated the will of the people?"
Phil Robertson, deputy Asia director at Human Rights Watch, said, "Incredible victory for #LGBT rights, non-discrimination, respect, & families! We need more dialogue in society".
The pair has also worked with Taiwan's 20-year-old LGBT movement, which is unusually vibrant for Asia because of free speech protections and lack of a strong organized religion.
Vietnam decriminalised gay marriage celebrations in 2015, but it stopped short of full legal recognition for same-sex unions.