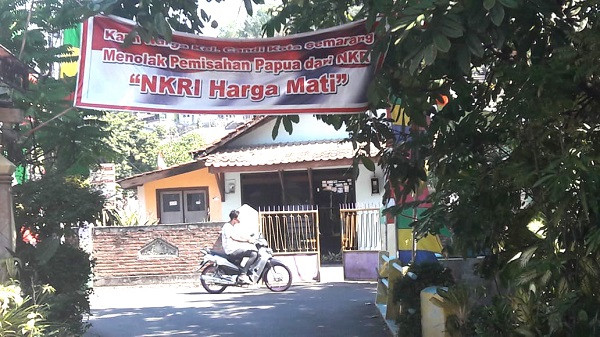 Violent protests erupted anew Wednesday in Indonesia's restive Papua region, with a market torched and street battles breaking out between police and demonstrators as more than 1,000 security personnel were deployed to contain the unrest.
In the first of the three cities, capital of West Papua, the crowd took to the streets attacking and setting fire to some public buildings, including the Provincial Legislative Council and the former Papua Governor's Office.
Police have sent 1,200 additional officers to West Papua, Muhammad Iqbal, a national police spokesman, told media.
The students were taken to a police headquarters after being accused of disrespecting the Indonesian flag in front of their dormitory during an Independence Day ceremony.
Protests broke out on Monday morning in several cities across the two provinces, including in the Papuan town of Jayapura and the West Papuan cities of Manokwari and Sorong.
In Timika, a city in the neighbouring province of Papua, where the giant Grasberg copper and gold mine operated by the Indonesian unit of Freeport McMoran is located, thousands of protesters threw rocks at a parliament building, houses, shops and a hotel.
Police reinforcements have been sent to Papua ahead of more planned protests.
More news: Syrian forces surround Turkish army post
More news: Michael Owen states his prediction for Norwich City v Chelsea FC
More news: Intel launches first artificial intelligence chip Springhill
Separate footage posted on Twitter of protests in another part of Sorong shows men in military uniform running and yelling "Get the guns, dogs!" in response to protesters throwing rocks.
Protesters had attacked the jail among other buildings, said Ade Kusmanto, a spokesman for the director-general of correctional facilities at the Law and Human Rights ministry.
Police in riot gear stormed a dormitory to force out students who allegedly destroyed an Indonesian flag, as a group of protesters shouted racial slurs at them.
A separatist movement has simmered for decades in the resource-rich area of Papua, where there have been frequent complaints of rights abuses by Indonesian security forces.
Indonesia's president Joko Widodo called for calm and the government pledged to investigate the Surabaya incident.
Tens of thousands of Papuans have been displaced amid intense fighting between troops and guerrillas after a rebel faction killed 19 construction workers at a remote jungle camp past year.