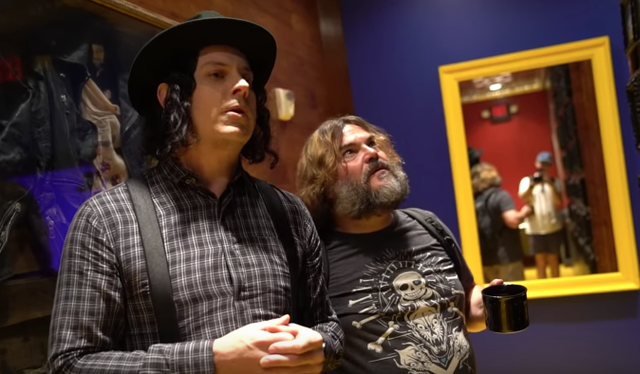 Jack Black has shared a video which sees him get one step closer to making his collaboration with Jack White.
Last week, we learned Tenacious D (the musical comedy duo of Jack Black and Kyle Gass) had recently recorded in Nashville with none other than Jack White himself - fulfilling the internet's long-running prophecy of the two Jacks coming together to become "Jack Gray".
Read "Inside Jack White's New Third Man Pressing Plant" on the Pitch. "That's what we're hoping anyways", Jack Black explains while on the way to White's home studio. And me and Kage [Kyle Gass] have been working on a jam but it's not quite done, it needs a little work. "This is a legendary collab", Black says. Black also notes that the recording session with Tenacious D and White was quick and straight-to-tape.
Speaking to camera the School of Rock star said: "So Jack White just gave us the tour of the Third Man headquarters".
More news: System Shock 2 is getting an Enhanced Edition
More news: Woman crushed between two cars near Buckingham Palace
More news: You can buy a lifetime pasta pass at Olive Garden
Like night turns to day, it seemed inevitable that Jacks Black and White would eventually collaborate on the music project of our dreams.
They weren't allowed to film inside the house but described the recording process of their new song as "magical", stating: "I'm still floating on cloud 9".
Further details of the Gass-Gray collaboration have yet to be announced, but we can likely expect the new single to arrive soon.