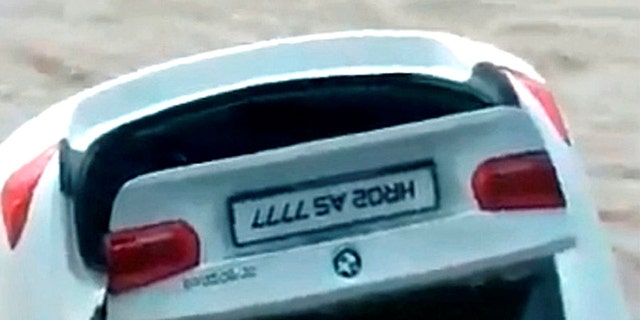 A young man reportedly pushed a new high-end BMW gifted to him by his family into a river in India because he wanted a Jaguar vehicle instead.
The man, known as Akash, is alleged to have pushed his BMW into the water at Yamunanagar in India's north.
Footage shared online in India shows the BMW slowly sinking beneath the surface of a river but despite the youth's best efforts to destroy the vehicle, it apparently re-surfaced after flowing into a small island on the river.
His father, Sanjeev Kumar, defended his son and denied that Akash wanted a Jaguar.
Local police say the man filmed the auto in the water and sent the video to his parents.
More news: Redskins not trading 7-time Pro Bowler Trent Williams
More news: Britain's Jamie Chadwick wins historic 2019 W Series Championship
More news: Dak Prescott seeking $40 million from Cowboys
Hundreds of local men watched the recovery effort from the riverbank as heavy machinery was brought in to retrieve the auto. "His family had sold the [Toyota] Innova they had received from his in-laws to buy him the BMW", he said.
Speaking to local news, the man's father said: "I wanted to give my son a birthday present".
"We would do a preliminary investigation but this seems to be a personal matter".
"We could only afford to give him a BMW, while he kept on insisting that he be given a Jaguar", he said. The BMW eventually got stuck on a patch of grass in the middle of the river, causing Akash to jump into the water to go after it. "He deliberately pushed (the) luxury vehicle BMW into the river", a police report said.