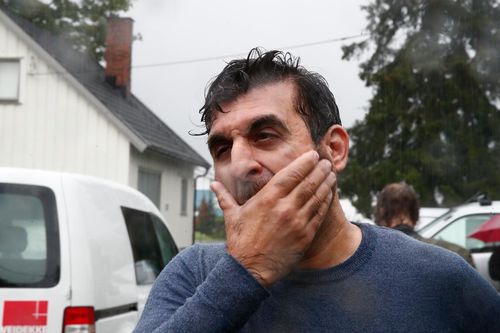 When officers went to the shooting suspect's residence, they found the body of his 17-year-old stepsister, police said.
The alleged mosque gunman was being investigated in her death.
"The investigation is still in an early phase and the suspect has not made any statements to the police", police said in a statement. The suspect had been apprehended after the attack, in which shots were fired but no one was hit, with one of the people inside the mosque having overpowered him before cops arrived.
Authorities are now treating the attack as a suspected act of terrorism and Norwegian Prime Minister Erna Solberg has condemned Saturday's incident as a "direct attack on Norwegian Muslims".
A Norwegian man suspected of killing his stepsister and opening fire at a mosque near Oslo rejects allegations of murder and attempted murder, his lawyer said Monday.
In a statement on Sunday, Oslo police said "the aggressor refused to give any statement to the police this night, but new questionings will be carried out".
"He is exercising his right not to be interrogated", said his defence lawyer, Unni Fries.
Other worshippers were grateful for Rafiq's bravery.
More news: Minecraft Super Duper Graphics Pack has been cancelled over performance issues
More news: Nora Quoirin: Body found in search for missing Brit teen in Malaysia
More news: Jeffrey Epstein, billionaire and former friend of Prince Andrew, dies in prison
Norway's al-Noor Islamic centre shares its name with the worst-affected mosque in the New Zealand attacks.
Shortly before the mosque attack, a person identifying himself as Philip Manshaus had posted a message on the EndChan forum calling for a "race war" to be taken from the internet into real life ("irl").
The post ended with the words "Valhalla awaits", a mythological Norse reference to the afterlife for those who have died in battle.
Breivik detonated a massive bomb in Oslo that killed eight people and then opened fire on a gathering of the Labour Party's youth wing on the island of Utoya, killing another 69 people, majority teenagers.
Following Saturday's attack the police have increased security around the celebration of the Muslim holiday of Eid. He said he grabbed the attacker, held him down and wrestled the weapons from him.
Head of Norway's security police (PST) Hans Sverre Sjovold speaks at a news conference in Oslo, Norway, on August 12, 2019.
"I will never let myself be frightened, but I must admit that I am anxious. that a terrorist could do harm", he added. "I represent the mother of the girl", she said, adding that the girl's mother and Manshaus's father were together, and surrounded by friends helping them cope.