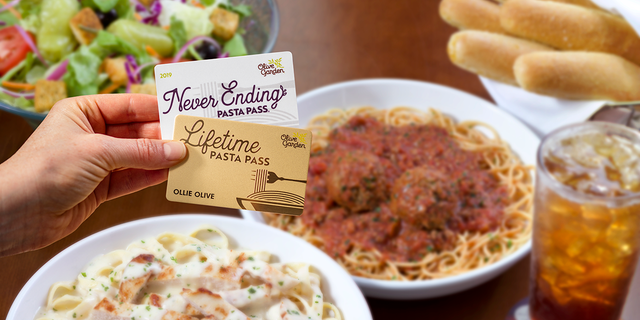 Olive Garden promised something "bigger" for 2019's sixth annual Never Ending Pasta Pass promotion.
The remaining 23,950 regular $100 Pasta Passes are getting an upgrade too: This year, they'll run for nine weeks instead of eight weeks - making it that much easier to get your money's worth on unlimited servings of Never Ending Pasta combinations, homemade soup or salad, and breadsticks.
There are 24,000 never-ending pasta passes available.
Those who want to upgrade that pass to one that lasts a lifetime can opt in to the "Lifetime Pasta Pass" for an additional $400 plus tax.
Olive Garden's Never Ending Pasta Pass sale will go on sale onlineThursday.
More news: Alex Rodriguez's Car Reportedly Robbed During Sunday Night Baseball
More news: Popular Ivorian singer, DJ Arafat is dead
More news: Myanmar landslide kills 51
- Olive Garden is taking "unlimited breadsticks" to a completely new level as the restaurant chain will be offering 50 lucky carb lovers the chance at a lifetime supply of pasta.
The $100 pass allows customers to order from the Never Ending Pasta Bowl menu at the restaurant chain as many times as they wish for nine weeks, September 23 to November 24. Olive Garden says the new pass will pay for itself, on average, by the time you hit your 45th bowl, and can be used all day every day - with the exception Thanksgiving and Christmas when Olive Garden restaurants are closed. This year, 24,000 passes will be sold.
Do you want to eat pasta for the rest of your life?
The sale starts Thursday, August 15. The chain is recommending that hopefuls join the "waiting room" on its website at 1:55 p.m. EST so that they're queued up and ready to go once the clock strikes 2 p.m.